The services provided on your holiday
A summer with comfort, relaxation, fun and food
A pleasant holiday by the sea.
Simple and uncomplicated!
Barbara and Eva's family run hotel guarantees you fun and relaxation.
Professionalism, together with helpfulness, a warm welcome, the comforts of the hotel and the taste and flavours of the cuisine.
Bright open spaces and a TV room with air conditioning
Tailor-made services for families and children
Car park with free shuttle service
Bike service with child seat for your children
Free Wi-Fi in the hotel
Affiliated beach: The Delfini Beach Village
A unique position, near the beach and a few steps from the main attractions of Cattolica
Cross the road and you are on the beachfront, only a short walk from the town centre, just a few steps from Piazza Primo Maggio with its Dancing Fountains and the shops in Viale Dante.
Simple cuisine, genuine and traditional
Every day Barbara prepares tasty dishes by following our Romagnola traditions, selecting only the freshest, healthiest ingredients.
36 rooms... simple but equipped with every comfort
On your return from the beach, relax in our comfortable rooms ... they are also ideal for family holidays.
Private bathroom with shower cubicle
Hair dryer
Air conditioning
Minibar
TV
Direct line telephone
Free Wi-Fi
Pets are welcome
This summer come on holiday with your pet friends.
They are welcome at our hotel, share a special holiday together!
Services for children: a holiday on the beach for the whole family!
What are the features for a great family holiday?
Many tailor-made comforts, a warm welcome, lots of fun and laughter, providing you with those relaxing moments!
At the table, meal times and food for your children and babies:
Convenient early meal times to feed your baby when you prefer
Our choice of menus with possible variations are perfect for them too
For the youngest ones there is food for babies and vegetable broths
Microwave, bottle warmer and high chairs
Comfort in your room
After a nice day on the beach or a beautiful day exploring one of our inland villages or hamlets, it is time for your children to relax!
As well as the comforts available in the rooms, you can also find cots and camp beds.
At our hotel there is an outdoor covered play area with slides, play horses and swings. There is also an indoor play room, perfect when the weather isn't too good, equipped with tables, puzzles, building blocks, colouring books and books.
...fun on the beach!
A world of games and entertainment, baby swimming pools, mini club, children's make-up and play areas for the youngest ones!
Our hotel's affiliated beach, The Delfini Beach Village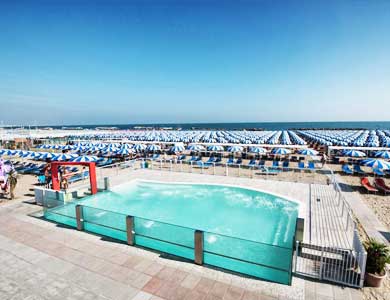 Besides moments of peace and relaxation, lying on your sun bed, under your beach umbrellas, why not dive into the swimming pool or try the Jacuzzi, challenge your friends to a beach volleyball game or a more leisurely table tennis match.
In order to keep yourself fit, you will also find a gym on the beach as well as many other sports activities on offer by the entertainment staff such as tournaments, aqua gym lessons and muscle awakening.
And every evening there is group dancing and music events for a lively energetic night on the Riviera!